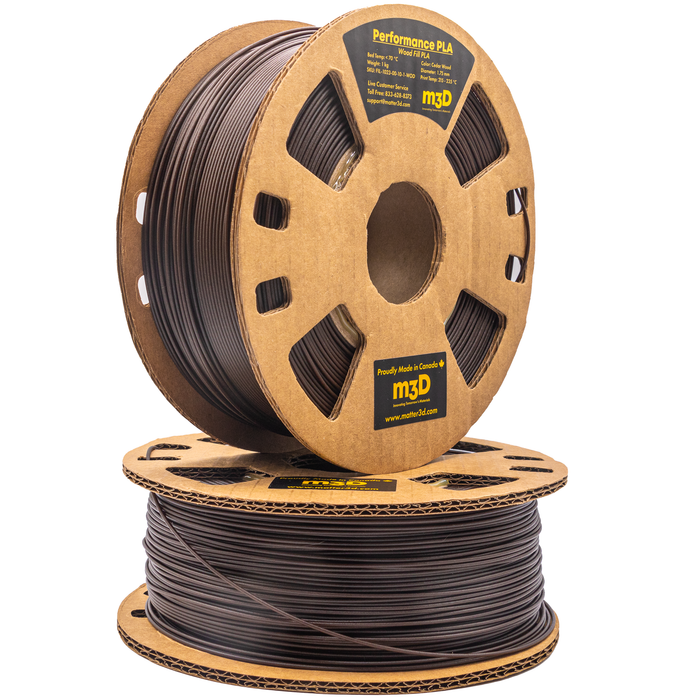 Performance PLA - Wood Fill
Product Description:
Matter3D's Wood Fill Performance PLA is formulated using genuine Vancouver Island wood fibers (10%) and the same great NatureWorks 3D850 resin as our other Performance line products. This engineering-grade Wood Fill PLA has higher bulk crystallization and is developed for high-heat (< 85 °C) and high-strength applications (stronger than most ABS materials).
Performance PLA - Wood Fill is ideal for functional jobs, where greater heat resistance and impact strength are desired. This material saws well, sands well, and takes paint extremely well. Compared to other Wood Fill - PLA materials, that may not even contain real wood, Matter3D's Wood Fill is made from genuine Vancouver Island cedar pulp. It even smells authentic when you print it! We recommend printing with a 0.6 mm nozzle; however, if you have your printer dialed in, it is possible to print using a 0.4 mm nozzle. 
Similar to our other Performance PLA products, the Wood Fill line offers the same ease of PLA printing without sacrificing print quality, compatibility, reliability, or part-performance. 

Annealing:
Any parts made with Matter3D's Performance PLA can be heat treated (annealed) to improve the material's physical properties. To anneal a printed part, heat the part at 80 – 130 °C for up to 30 minutes by either submerging in hot water or by baking in an oven.
 ______________________________
Matter3D's Performance PLA is precision extruded and immediately vacuum-sealed before shipping with desiccant for protection against moisture. This product is available in 1 kg spools (2.2 lbs) and can also be ordered on a 1kg Master Spool. Matter3D always recommends drying your filaments before use. 
This filament is ideal for use with practically all desktop 3D printers, such as Makerbot, Prusa, Ender, Flashforge, Anet, Creality, Lulzbot, Makergear, Ultimaker, or any other printer accepting 1.75 mm or 2.85 mm filament.
Proudly compounded and manufactured in Canada!
Specifications:
Product Name: Performance PLA – Wood Fill
Product Code: FIL-1020-00-10-WOD
Diameter:
1.75 +/- 0.05mm
2.85 +/- 0.05mm
Weight: 1 kg
Length: 350 m
Density: 1.20 g/cc
Nozzle Size: ≥ 0.6 mm recommended. 
Nozzle Temp: 215 – 245 °C
Bed Temp: 25 – 75 °C
Bed Prep: Hairspray, Glue Stick, Polyimide (Kapton) surface
Layer Height: ≥ 0.1 mm
Print Speed: ≤ 100 mm/sec
Fan speed: 0 – 30%