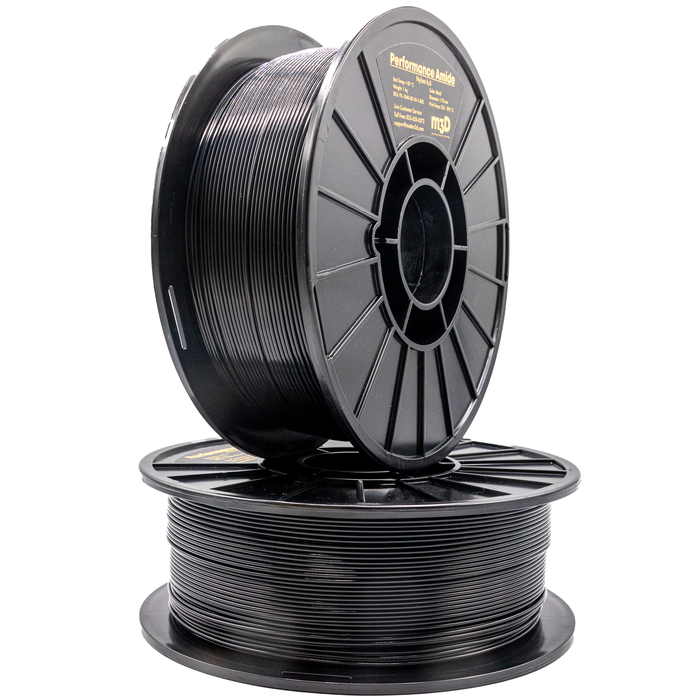 Performance Amide 66 - Low Warp Unfilled
Original price
$39.99
-
Original price
$39.99
STANDARD SHIPPING
Estimated delivery time: 7-10 days
Product Description:
Matter3D's Performance Amide (Nylon) 6,6 is an engineering-grade material that is manufactured from a Matter3D proprietary formulation in Victoria, BC. Performance Amide 6,6 is an excellent choice for superior printability and high-performance. This material offers industrial-grade mechanical, thermal, and chemical resistance properties.
This material has been engineered to even print on stock machines. We tested this material on an bone-stock Ender 3 with fantastic results. 260°C Nozzle, 110°C Bed, absolutely zero fan, and a little bit of Elmer's glue. 
Matter3D's Nylon 6,6 - series of filaments are great for 3d printed parts that require strength and durability. The performance series nylon is a versatile material that is characteristically flexible but also exceptionally tough, making it prefect for impact-resistant parts that require shock absorption. 
Engineers, designers, and manufacturers turn to the Performance Amide series of filaments for their mechanical stability, low coefficient of friction, and natural chemical resistance. Compared to other Nylon materials, Matter3D's Performance Amides offer the tuned properties for easier 3d printing without sacrificing aesthetics, quality, compatibility, reliability, or part-performance.
______________________________
Matter3D's Performance Amide is precision extruded and immediately vacuum-sealed before shipping with desiccant for protection against moisture. This product is available in 1 kg spools (2.2 lbs) and can also be ordered on a 1kg Master Spool. Matter3D always recommends drying your filaments before use.