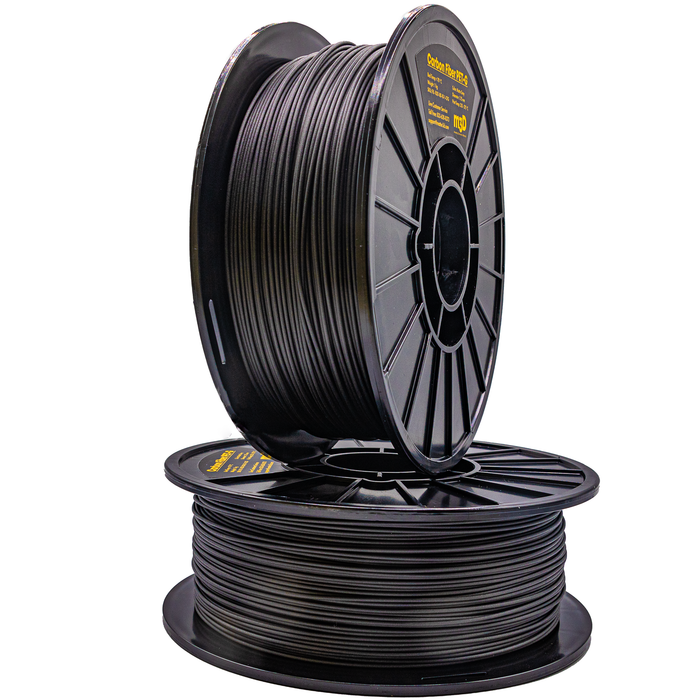 Carbon Fiber PETg
Original price
$24.99
-
Original price
$29.99
STANDARD SHIPPING
Estimated delivery time: 7-10 days
Product Description: 
Matter3D Carbon Fiber PETg's are made right here in Victoria, BC using premium PETg and High-Modulus Carbon Fiber. This filament is ideal for anyone that desires a structural component with high modulus, excellent surface quality, dimensional stability, light weight, and ease of printing. 

We offer 2 versions of our Carbon Fiber PETg. A prototyping version, on hardboard cardboard spools (compatible with Bambu AMS), with 10% milled carbon fiber. This material is ideal for quick prints and prototyping where mechanical robustness/durability aren't of high concern. On the other hand, the 15% PETg Carbon Fiber is ideal for functional prints; available on hardboard cardboard or plastic spools.
All of Matter3D's Carbon Fiber PETg is specially designed to print at high speeds, with > 200 mm/s achieved on some machines. 
Benefits of Carbon Fiber PETg: 
1 kilogram spools
15% (by weight) Carbon Fiber content

Strong and light weight, ideal for structural designs
High heat resistance (> 100C)
Matte finish
Superior chemical resistance when compared to ABS
Amorphous structure giving it low, near isotropic shrinkage
Low moisture absorption, 3x lower than ABS
Very low odor while printing
Wide processing range from 230-270°C
Chemical Resistance of PETG:
Unstressed tensile bars molded of PETG exhibit good resistance to dilute aqueous solutions of mineral acids, bases, salts, and soaps, as well as aliphatic hydrocarbons, alcohols, and a variety of oils. Halogenated hydrocarbons, short chain length ketones, and aromatic hydrocarbons still dissolve or swell the plastic.
Abrasive Material:
This material is particularly abrasive among 3D printing filaments. Users may find standard brass nozzles are chewed through very quickly compared to standard wear and tear. When worn through, the nozzle diameter will widen inconsistently and the printer will experience extrusion issues.
Because of this, it's
strongly recommended
this material be printed through a hardened steel nozzle rather than a softer metal.
 Hardened steel nozzles
can often be inexpensive and easily installed depending on your printer manufacturer's instructions.
______________________________
Matter3D's Carbon Fiber PETg is precision extruded and immediately vacuum-sealed before shipping with desiccant for protection against moisture. This product is available in 1 kg spools (2.2 lbs) and can also be ordered on a 1kg Master Spool. Matter3D always recommends drying your filaments before use. 
This filament is ideal for use with practically all desktop 3D printers, such as Makerbot, Prusa, Ender, Flashforge, Anet, Creality, Lulzbot, Makergear, Ultimaker, or any other printer accepting 1.75 mm or 2.85 mm filament.
Proudly compounded and manufactured in Canada!
Specifications:
Product Name: Carbon Fiber PETg
Product Code: FIL-1031-00-10-CPG
Diameter:
1.75 +/- 0.02mm
2.85 +/- 0.02mm
Weight: 1 kg
Length: 335 m
Density: 1.24 g/cc
Nozzle Size: ≥ 0.4 mm; We recommend a hardened steel nozzle
Nozzle Temp: 245 – 285 °C
Bed Temp: 25 – 75 °C
Bed Prep: Hairspray, Glue Stick, Polyimide (Kapton) surface
Layer Height: ≥ 0.2 mm
Print Speed: ≤ 1000 mm/sec
Fan speed: 0 – 30%