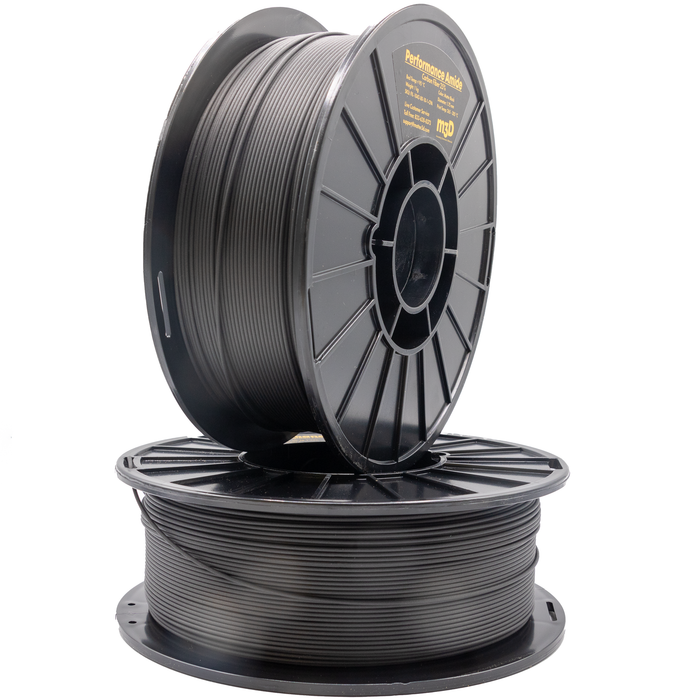 Performance Amide - Nylon 66 - Low Warp High Temperature Carbon Fiber
Original price
$69.99
-
Original price
$69.99
STANDARD SHIPPING
Estimated delivery time: 7-10 days
Product Description:
High temperature filament for your industrial part needs! Performance Amide High Temperature Carbon Fiber is for production of parts used in high stress environments where ambient temperatures can reach 135 °C. The material is designed to perform within a temperature range of -45°C to 135°C, without any loss in durability, impact resistance, and abrasion resistance. This material contains no halogens and is based of a food safe resin. 
Performance Amide (Nylon) 6,6 High Temperature Carbon Fiber is an engineering-grade material that is manufactured from Matter3D's own proprietary formulation. Amide 6,6 High Temperature is an amazing, highly durable, nylon reinforced filament. By adding micro-carbon fibers to nylon, you get a tough filament capable of printing parts with stiffness, impact resistance, and high tensile strength. This material is an engineering grade filament, ready for hobbyists and advanced users alike.
Matter3D's Nylon 6,6 - series of filaments are great for 3d printed parts that require strength and durability. The performance series nylon is a versatile material that is characteristically flexible but also exceptionally tough, making it prefect for impact-resistant parts that require shock absorption. 

Engineers, designers, and manufacturers turn to the Performance Amide series of filaments for their mechanical stability, low coefficient of friction, and natural chemical resistance. Compared to other Nylon materials, Matter3D's Performance Amides offer the tuned properties for easier 3d printing without sacrificing aesthetics, quality, compatibility, reliability, or part-performance.
 ______________________________
Like all nylons, Performance Amide 6,6 High Temperature Carbon Fiber must be kept dry! If it does not remain packaged with desiccant, it will readily absorb moisture from the air; this will lead to degraded print quality and wasted filament. You can dry it out by baking it in an oven at 85°C for 4-6 hours.